Programs & Events
Inspiring cultural enrichment and friendship and fellowship
Membership Meetings
Regular monthly meetings for members and visitors are held at 11 a.m. on the fourth Saturday of the month at The Cultural Center, except for the months of July and August. The annual meeting is held in November for members to elect officers and directors and to transact other matters that may properly -come before the members. Business-only meetings are scheduled as necessary
African Studies
The African Studies Group meets twice monthly at The Center on Tuesdays at 11 a.m. to emphasize and teach participants the importance of understanding African and African American history.
Cultural Films
Free film presentations are made three times a month at The Center on Thursdays at 2 p.m.
Juneteenth
Juneteenth is the only nation-wide holiday celebrating the end of slavery in the United States. All are welcome to join this free cultural event partially supported by the City of Palm Coast. The day's observance program begins at noon with vendors available at 10 a.m. The program honors African and African American ancestors in song, dance and dramatic performance. Parents are encouraged to bring children for an educational and entertaining experience.
Membership Cookout
The annual Cookout allows members and friends to reconnect after the interruption of General Membership meetings for summer travel and rest. A small donation is accepted from friends attending the cookout, which is usually scheduled for the first Saturday after Labor Day at a Palm Coast recreational park. In appreciation of our members, the cookout is free to members.
Holiday Gift Giving
AACS has the annual tradition of distributing gifts to selected less fortunate families of Flagler County, Fla. Member and friend donations for gifts begin late October. Unwrapped toys for children aged 3 to 7 are accepted at The Center with an indication of the appropriate sex and age of the child for the gift, as well as the donor's name. The Gift Giving Party is usually scheduled at the Center on the first Saturday in December.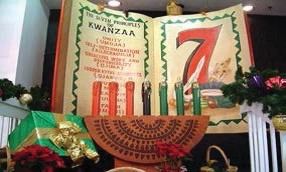 Kwanzaa
This annual free public festivity of vendors, food and entertainment is partly supported by a cultural arts grant from the City of Palm Coast. Nguso Saba is celebrated, focusing on one of the seven principles for enhancement of culture, family, and community. This event is usually scheduled at The Center for the last Saturday in December.
Jazz Breakfast
The annual Jazz Breakfast fundraiser usually scheduled at the Center for a Saturday in February is highly popular. A full breakfast is provided until 10:45 a.m. with music continuing until noon.
Black History Program
The Annual Youth Black History Reality program is partly supported by a cultural arts grant from the City of Palm Coast and is presented free to the public and AACS members at The Cultural Center. Themes such as "The Struggle Continues" provided a broad stage for community young people to communicate the contributions of prominent African Americans. Donations are accepted to provide college scholarships for qualified local students. The Youth Black History Reality Program usually occurs on a Sunday in February.